Seasons
1st Season
8/16/21-10/22/21
Boys Basketball
Girls Volleyball

2nd Season
10/28/21-1/5/22
Girls Basketball
Boys Volleyball

3rd Season
1/6/22-3/3/22
Girls & Boys Soccer

4th Season
3/4/22-5/6/22
Girls & Boys Track
Information
Dietz K-8 supports the development of youth athletics programs for the purpose of enhancing the academic curriculum and building community.

Dietz K-8 proudly participates in the Pantano Division!
To Participate in any athletics at the school, all of the following forms will need to be filled out and returned as one packet to the school, along with a tax credit fee payment of $30.00.
If you need assistance with fees, the Educational Enrichment Foundation offers scholarships. Complete the following application: EEF Interscholastic Participation Fee Assistance Form (in PDF)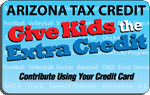 Use your AZ Tax Credit Contribution to pay a students' extracurricular fees!
- Preparticipation Physical Evaluation 15.7-A (in PDF)
- Preparticipation Physical Examination 15.7-B (in PDF)
- Mild Traumatic Brain Injury/Concussion - Annual Acknowledgement 15.7-C (in PDF)
- Interscholastic Emergency Information Card & Parent Permission Form (in PDF) (English) / (Spanish)
- Activity Specific Parent Permission Form (in PDF) (English) / (Spanish)
- Student Records Opt-Out (This form replaces the Student Media Contact Consent Form) (in PDF) (English) / (Spanish)
- Athletic Transportation *optional* Complete this form if the parent will be transporting his/her own student to away game
Spectator Conduct
It is the goal of the Tucson Unified School District to provide a safe and rewarding experience for our students participating in extracurricular activities. We encourage all parents, students, and the general public to conduct themselves in a supportive fashion at all times while attending athletic events and school activities.

It is expected that spectators support and encourage all participants, teams, coaches, sponsors, and officials. Spectators should display a positive attitude and appropriate behavior at all athletic contests. This includes refraining from any derogatory comments to other parents, game officials, coaches or participants.

Your support of your child's participation in our school activities is vital in their development as young adults. We thank you in advance for your attendance and positive support!

When attending school events, all spectators are to be dressed appropriately, i.e. shoes, shirts, etc.

Supervise your young children at all times.

Prohibitions
The following are not allowed at athetic events or school activities.
NO Weapons
NO Skateboards
NO Bikes
NO Open Containers
NO Backpacks
NO Suspended students (see Board Policy JK-R1-E1)
NO Pets/Dogs-City Code 4-103
NO Drugs/Alcohol/Tobacco/eCigs
NO dress code violations
NO coolers at paid events-for invitationals we allow team coolers
NO Flash photography during games
NO Re-Entry
NO taunting, ridicule, profanity, or embarrassing comments directed at a team or individual.
NO behavior that interferes with the orderly process of the game.
NO artificial noisemakers or music.
NO fans are allowed on the court, near the bench area, or near the scorer's table, before, during or after the game.